Escherichia coli, commonly referred to as E. coli, is in a group of organisms known as coliforms:
common bacteria found in the digestive system of humans and animals.
There are only a few strains that cause serious disease in humans. One of these strains is responsible for causing Traveler's diarrhea, and the second is E. coli O157:H7, which contaminates meat and leafy vegetables.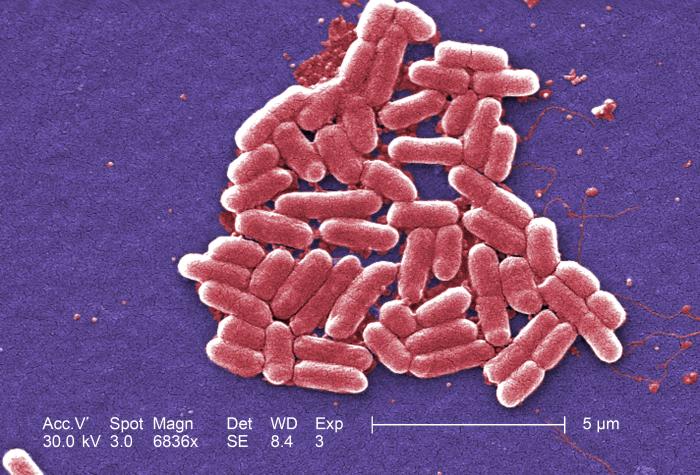 The "O157:H7" strain has caused serious hemorrhagic diarrhea and for some, long-term complications resulting in illness and even death in some cases.

The presence of E. coli is used as an indicator to monitor the possible presence of other more harmful microbes, such as Giardia, Shigella, Norovirus and the Protozoa Cryptosporidium. Diseases resulting from contact with water contaminated by E. coli can cause gastrointestinal illness, skin, ear, respiratory, eye, neurologic, and wound infections. The most commonly reported symptoms are diarrhea, stomach cramps, nausea, vomiting, and low-grade fever. When E. coli exceeds the permissible level in recreational water, it results in the closing of public swimming pools and fishing areas.
Some possible sources of fecal contamination include wildlife, agricultural runoff, or runoff from areas contaminated with livestock manure, wastewater treatment plants, or private septic systems. Heavy rain may cause organisms to be washed into waterways, lakes, or groundwater. If contaminated water is then used as a source of drinking water and is not treated, or is inadequately treated, it may result in illness.
When this contaminant makes its way into a drinking water system sediment found on the bottom of water storage tanks can provide a safe habitat. E. coli along with other bacteria and pathogens, can find shelter from disinfectants under the soft sediment that accumulates in storage tanks.
The  Centers for Disease Control and Prevention list E. coli as one of the top 10 Causes of outbreaks in public water systems.
#ronperrinwater #watertowercleaning #potablewatertankcleaning. #tankdiver #watertowercleaning #watertankcleaning #watertankinspection #ROVtankinspection #tankcleaning #watertowerinspection #robottankcleaner
The best way to insure that E. coli or other bacteria will not invade your tank sediment is to remove it. Clean your water storage tanks then maintain them by getting them on a cleaning schedule.
Since 1997 Ron Perrin Water Technologies, Inc. has been a leader in the inspection and cleaning of water storage tanks and towers. Our inspection methods cover all state required inspection points. We also include a video produced by a underwater camera and lighting system that are able to properly inspect the interior floors of your facilities to determine sediment levels. We do all of this with no disruption in service and no water loss.
Our potable water dive team can keep your tanks clean with no disruption in service and minimal water loss. When sediment is removed the habitat that allows bacteria and other contaminants to remain in your tank is also gone. This allows the disinfectants like chlorine to do a much more effective job. Our customers report to us that they use less chlorine, after their tanks are cleaned to meet standards. For more information go to: www.ronperrin.com, send an e-mail to perrinsales@gmail.com or call 817-377-4899 for a quote today.
Reference: CDC Water-related Diseases and Contaminants in Public Water Systems – . Top 10 Causes – Outbreaks in Public Water Systems
E. coli – CDC –Escherichia coli (abbreviated as E. coli) are bacteria found in the environment, foods, and intestines of people and animals. E. coli are a large and diverse group of bacteria. Although most strains of E. coli are harmless, others can make you sick. Some kinds of E. coli can cause diarrhea, while others cause urinary tract infections, respiratory illness and pneumonia, and other illnesses.
See more here: https://www.cdc.gov/ecoli/index.html